Our Approach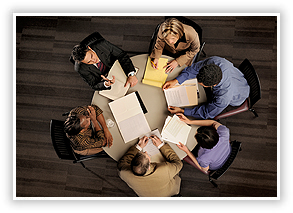 At First Glance
Our first contact allows you to become better acquainted with TMS culture and to develop a comfortable level of trust and confidence.
Team Meeting
A visit to your facility with key individuals from your organization and a meeting with our team managers will help to increase your comfort level with our business.
Evaluation
We can begin to gather necessary information to determine the types and extent of services that we may offer. TMS will collect information on your organization's internal processes so that we can replicate and perhaps improve on your company's current processes. Our team will closely examine all the services that you request and consider all areas that can or will be impacted.
Your organization will have a single point of contact at TMS while our team implements a solution.
Accurate Proposal
Once we confidently understand how your organization conducts daily business, we offer our proposal. Our service proposals are custom-tailored to your specific needs and requests. What is the greatest benefit? Your organization receives a proposal that offers our core services that are both flexible and cost-effective. You can be rest-assured that TMS will create a trouble-free transition of services by gathering all necessary information that enables us to implement an innovative solution for your organization.